| | |
| --- | --- |
| Price: | $185.00 |
| Availability: | in stock |
| Prod. Code: | C-C 3005 |
Carbon-Kleen Liquid is an industrial strength carbon and grese remover. Will remove baked-on grease and carbon from metal surfaces, brick, and glass. 100 % Safe on Aluminum. This product is used as a dip tank solution for stubborn to clean surfaces. Can be used on stove parts such as: burner rings, burner bowls, venturi tubes, burner spiders, etc. Also for use on: baking pans, frying and saute pans, stock pots, deep fat fryers, kettles, cooking utensils, hood filter screens, and oven racks. Carbon- Kleen T-5 has a life of approximately 6-12 months. Do Not Use on Hot Surfaces.
Make sure the dip tank is clean and dry, and that the drain valve is closed. Empty Carbon-Kleen T-5 into dip tank. Fill the tank until liquid level is reached to completely submerge object being cleaned. For best results, leave overnight. Remove appliance slowly so that excess liquid drains back into tank. rinse the appliance with COLD clean water. Be sure to wash appliance thoroughly before using again.
Product comes packaged in a five gallon pail.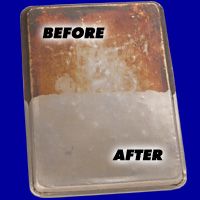 Let Us Solve
Your Toughest Cleaning Problems
Diablo Products, Inc. a Div. of Carbon-Clean Industries
P.O. Box E Kingston, PA 18704
Email: DIABLOCHEMICALCO@AOL.COM
Phone: 1-800-548-1385 Fax: 570-288-1227
This website was updated last on: 12 / 10 / 2015