| | |
| --- | --- |
| Price: | $28.00 |
| Availability: | in stock |
| Prod. Code: | C-C 9006 |
Filter Kleen will completely and thoroughly clean your filters in 10 minutes. It will cut the toughest soils on contact for fast and thorough removal of all built up greases and soils. in one quick and easy application, Filter Kleen cleans quickly, safely, and efficiently at 160 degrees. There is no boiling, no splashing, and no danger. Saves the consumer greatly on labor and energy. Filter Kleen can be used as a spray on, wipe off cleaner for grease filters, or it may be used as a dip tank solution.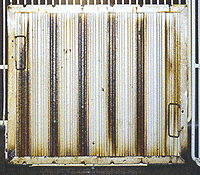 For spraying, just simply spray onto surface of filter, let sit, and then rinse off cleaner with warm water. For dip tanks, use a mixture of 5-10 parts of hot water to one part Filter Clean. Soak filter thoroughly until soil is loose, then rinse with warm water and allow filter to air dry.
Product comes packaged in a case of six one quart containers.
Let Us Solve
Your Toughest Cleaning Problems
Diablo Products, Inc. a Div. of Carbon-Clean Industries
P.O. Box E Kingston, PA 18704
Email: DIABLOCHEMICALCO@AOL.COM
Phone: 1-800-548-1385 Fax: 570-288-1227
This website was updated last on: 12 / 10 / 2015